"Shallow to mesophotic coral-Symbiodinium photoacclimatization in the Gulf of Mexico"
What was the most challenging aspect of your study (can be anything from field, lab to analysis)?
This study was my first foray into the field of molecular ecology and, as such, offered many new challenges. Designing and implementing a next generation sequencing (NGS) project required learning a whole new set of terminology and skills, and every step of the process was daunting in its own way. However, the most challenging aspect was also the most rewarding and has provided the foundation for all of my work since.
What was the most memorable moment in undertaking this study?
I will never forget my first dive at Flower Garden Banks National Marine Sanctuary (FGB-NMS). Although I'd participated in an ROV cruise previously, seeing the pristine coral reefs first-hand left me speechless (and not just because of the regulator in my mouth).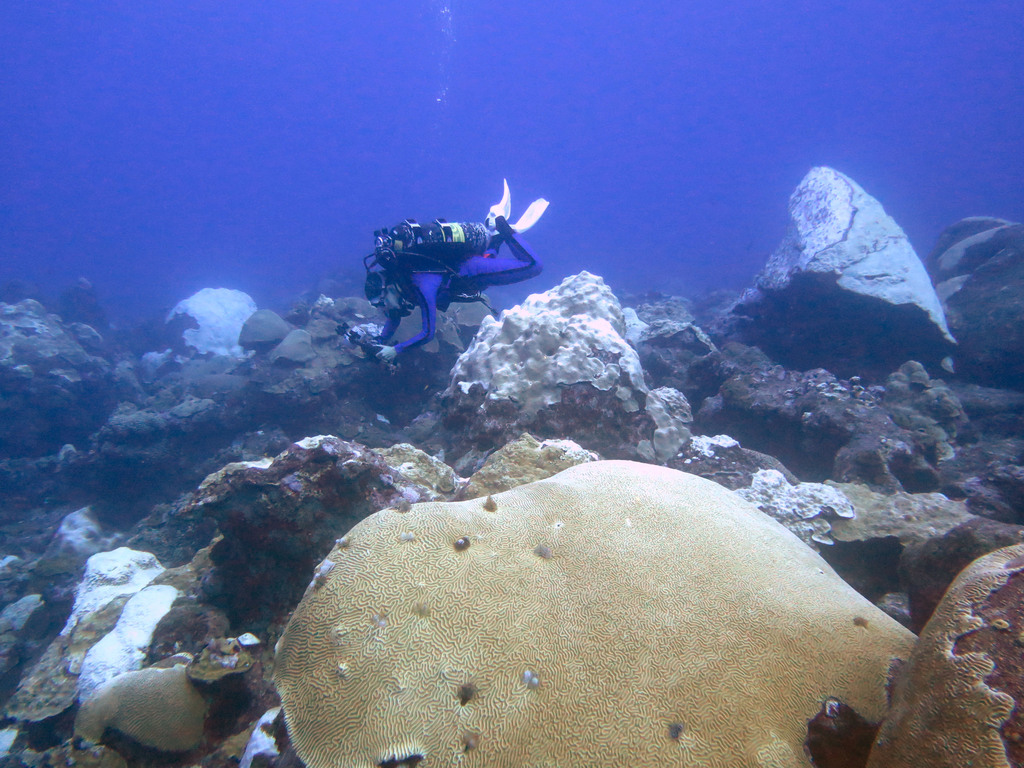 Former Voss Lab graduate student and paper author, Jennifer Polinski, documents bleaching during a warming event at FGB-NMS in 2016. This photo showcases some of the incredibly large coral colonies found at FGB-NMS. It also highlights the risk these reefs face, despite their geographic isolation. Fortunately, most colonies that experienced bleaching in 2016 recovered. (C) Voss Lab, FAU Harbor Branch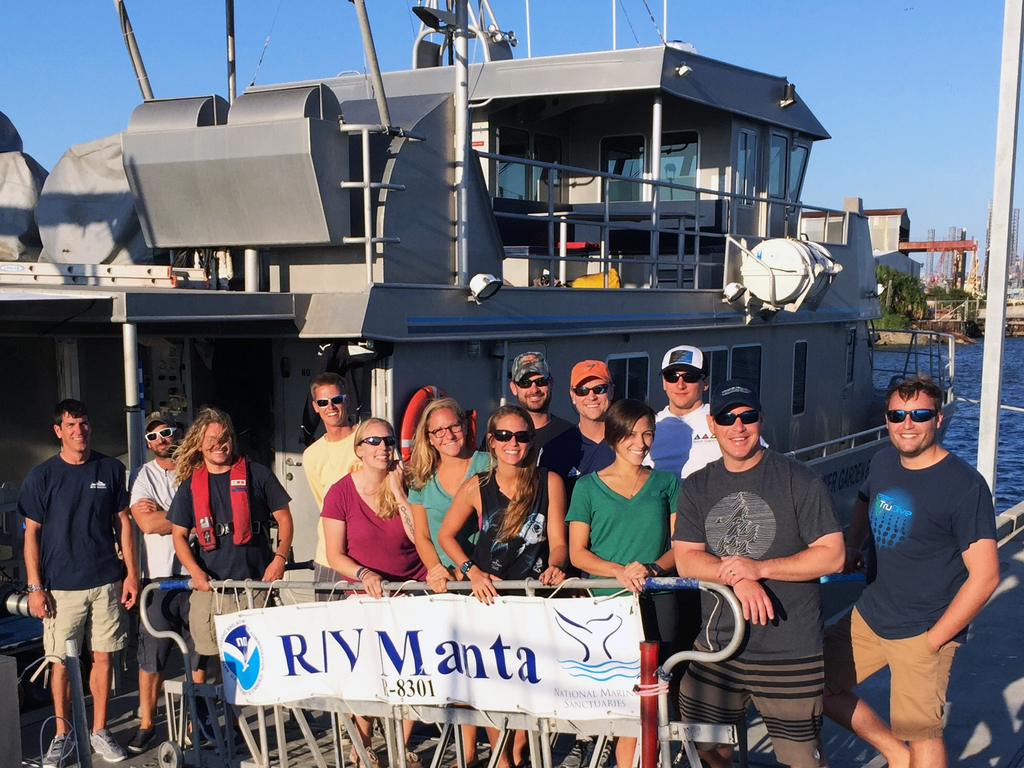 Sampling shallow and mesophotic corals required a team of specialized scientists, divers, technical divers, and crew. (C) Voss Lab, FAU Harbor Branch
What was your favorite research site in this study and why?
I would not be doing the Flower Garden Banks NMS justice to say only that it was my favorite site in this study, so I will say that FGB is by far my favorite place to dive, in general. Located in the Gulf of Mexico, about 180 km off the coast of Texas, the coral-capped banks that make up FGB hold some of the most remote, pristine reefs in the Tropical Western Atlantic. Beginning at a depth of ~17m, the shallow caps of the banks are reef as far as you can see, with many coral colonies the size of cars. The banks' inhabitants are as healthy and abundant as the corals making up the reef. Those that I was fortunate enough to encounter included a manta ray, sharks, grouper, a whale shark, schools of jack, and more.
Other than your co-authors, with whom would you like to share credit for this work?
This study would not have been possible without the help and support of a large number of collaborators and partners. Specifically, I would like to thank the staff of the Flower Garden Banks National Marine Sanctuary, the crew of the R/V Manta, Lance Horn and Jason White of the University of North Carolina Wilmington (UNCW) Undersea Vehicle Program. Many divers and scientists assisted with collection and processing of samples used in this study and others: Joshua Voss, Michael Studivan, Jeff Beal, Jake Emmert, Rachel Susen, Chris Ledford, Ryan Eckert, John Embesi, Emma Hickerson, Marissa Nuttall, Amanda Alker, Danielle Dodge, Patrick Gardner, Mike McCallister, Matt Ajemian, Robbie Christian, Alycia Shatters, and John Reed.
This study focuses on the coral species Montastraea cavernosa – an extreme depth generalist (0-113 m) that participates in an obligate symbiosis with Symbiodiniaceae. (C) Voss Lab, FAU Harbor Branch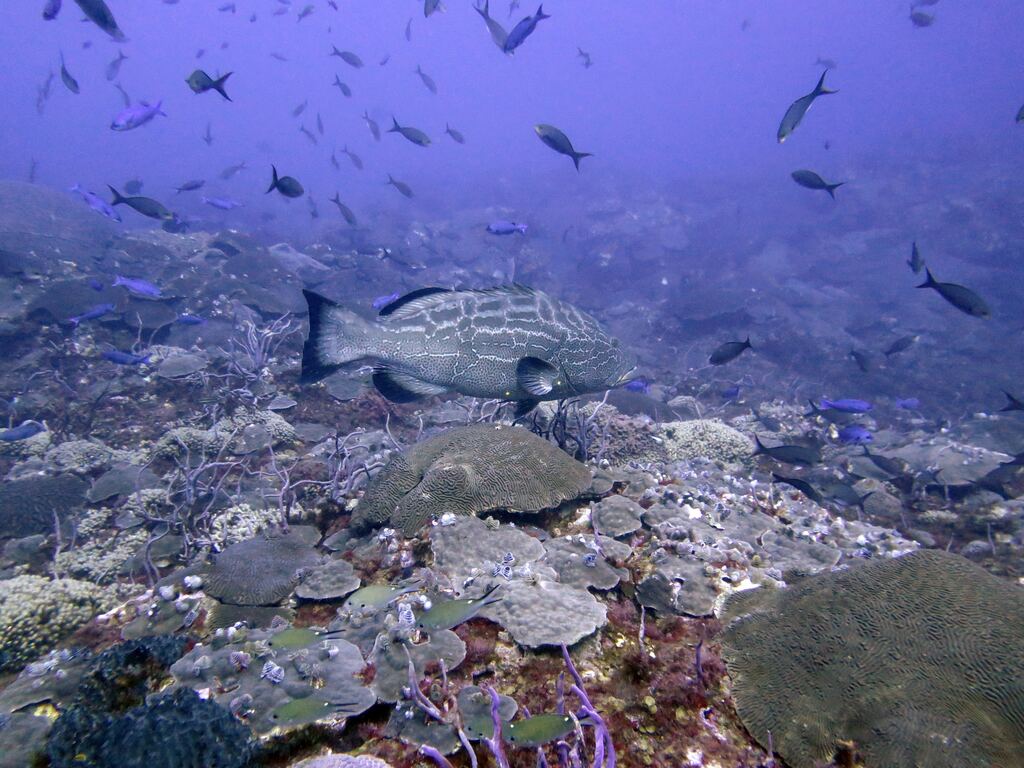 On mesophotic reefs of FGB-NMS, coral cover was high and colonies began exhibiting more plating morphologies with increased depth. Large grouper and schools of smaller fish were often seen at mesophotic depths. (C) Voss Lab, FAU Harbor Branch
Any important lessons learned (through mistakes, experience or methodological advances)?
When it comes to molecular work, don't set yourself up for bias. My samples were split up onto two NGS sequencing runs, and I made the mistake of having all of the mesophotic samples together on one. Because of this, I could not tell whether the slight differences seen in between shallow and mesophotic samples were true biological differences or just sequencing bias. I was able to determine the cause by resequencing a subset, but could have saved considerable time and money by making sure shallow and mesophotic samples were both represented in each of the original runs.
Can we expect any follow-up on this work?
I personally will not be following up with this work for the time being. However, exciting work on mesophotic reefs at Flower Garden Banks NMS and elsewhere in the Tropical Western Atlantic is underway in the Voss Lab, including a paper describing variation in mesophotic habitat for submission in a special section of Frontiers in Marine Science.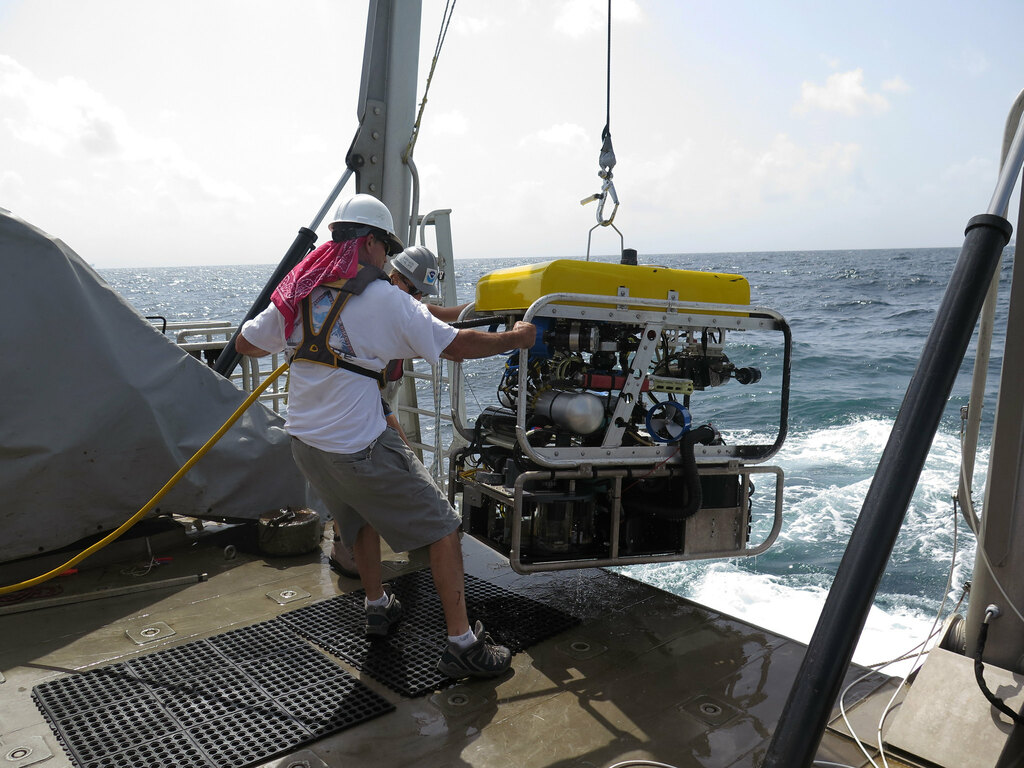 To study and sample coral at our third site – McGrail Bank – the Voss Lab was fortunate to work with a team of ROV specialists from UNCW UVP and the Mohawk ROV. (C) Voss Lab, FAU Harbor Branch
At the command station on the R/V Manta, ROV pilot Lance Horn trains graduate student Jennifer Polinski how to pilot the Mohawk ROV. (C) Voss Lab, FAU Harbor Branch
Featured article: